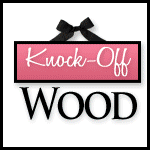 Have you been to Ana's site? If not, you are missing out.
She loves furniture. She builds it herself. And, better yet, shares her plans with us! Found a bed from Pottery Barn, for example, that you must have only to realize it will break the bank? She solves that problem by helping us build pieces ourselves!
You don't even need power tools for her plans. She writes it all out so that all you need to do it take your list to Lowe's, Home Depot, or your local store that sells and cuts wood for you.
She does beds, shelves, tables, chairs, and countless other pieces. I can honestly say there isn't anything on her blog that I wouldn't clear a place for in our home. My to-do list keeps growing.
In 115 days, she has had over 1 million hits on her blog. ONE MILLION in 115 days! Incredible. So, if you aren't one of those one million hits, check her out. Sorry to sound like a commercial... but, you need to check her out! She provides a great service to all of us DIYers!